De koning van Thailand, Bhumibol Adulyadej, is op 88-jarige leeftijd overleden. Hij lag al enkele dagen in het ziekenhuis en kampte met gezondheidsproblemen. De koning is voor zijn volk bijna heilig.
Zondag werd bekend dat de toestand van de koning instabiel was. Hij kampte met een longonsteking en nierproblemen, maar verder werden geen mededelingen gedaan. De Thaise beurzen kelderden.
Bhumibol Adulyadej werd geboren in Cambridge, in de Amerikaanse staat Massachusetts,  omdat zijn vader daar destijds studeerde. Zelfde studeerde Bhumibol in Zwitserland en keerde hij later terug naar Thailand.
Bhumibol was de langst regerende vorst ter wereld. Op 9 juni 1946 werd hij op 18-jarige leeftijd tot koning gekroond, nadat zijn broer Ananda Mahidol overleed na een schietincident in het Koninklijk Paleis in Bangkok. Nog altijd is onbekend wat er toen precies gebeurd is.
Hinder
In zijn beginjaren ondervond de koning veel tegenwerking van enkele machtige militaire leiders, maar dankzij de steun van andere leden van de koninklijke familie en enkele generaals lukte het hem om de monarchie een nieuw imago te geven. Dat deed hij door het gehele land te bereizen en grootse projecten te lanceren ter bevordering van de landbouw.
Bhumibol heeft als monarch beperkte bevoegdheden, maar wordt door zijn volk als semi-heilige gezien. Zijn openbare uitingen worden vaak ontleed voor mogelijke verborgen adviezen.
Politiek
Ook heeft de koning herhaaldelijk een rol gespeeld in politieke kwesties. Zo greep hij in toen een manifestatie voor de democratie in Bangkok in 1973 werd beschoten door soldaten: de demonstranten mochten het koninklijk paleis als vluchthaven gebruiken. Dit zorgde voor de val van de regering van de toenmalige premier generaal Thanom Kittachorn.
In 1981 verzette de koning zich tegen een groep legerofficieren die een coup had uitgevoerd. Groepen die loyaal waren aan de koning kregen vervolgens de macht terug.
Tijdens de politieke crisis ten tijde van premier Thaksin Shinawatra in 2006 werd de koning herhaaldelijk om zijn mening gevraagd, maar hij hield zich afzijdig omdat hij een reactie ongepast vond. Toch was zijn invloed van belang toen de verkiezingswinst van Shinawatra door rechters werd teruggedraaid. Zijn precieze rol hierin is altijd onduidelijk gebleven.
Kritiek
Er is ook kritiek op de koning, bijvoorbeeld vanwege zijn steun voor militaire acties en zijn zwijgen over schendingen van mensenrechten in Thailand.
In 2006 kreeg de koning de eerste Human Development Lifetime Achievement Award van toenmalig secretaris-generaal Kofi Annan.
Kroonprins
De Thaise koninklijke familie heeft geen vaste lijn voor de troonopvolging: het is aan de koning om te beslissen  wie hij als opvolger aanstelt. Na een wetswijziging in 1974 kan dat ook een vrouw zijn. De dochter van de koning, prinses Ubolratana Rajankanya, kan hierdoor ook de troon bestijgen.
Uit door Wikileaks gelekte informatie van ambassades bleek in december 2010 dat er twijfels bestonden over de geschiktheid van de kroonprins de troon over te nemen. Maha Vajiralongkorn staat bekend als een womanizer en ook zijn banden met een voortvluchtige Thaise oud-premier worden niet op prijs gesteld, schreef The Guardian destijds.
Autoriteiten vrezen dat als de kroonprins op de troon komt, dit tot meer verdeeldheid en politieke onrust in het land kan leiden. Drie adviseurs van een machtige kroonraad, door de koning aangesteld, hebben destijds een alternatief gepresenteerd.
De militaire junta in het land heeft al uitgesproken de kroonprins te steunen als troonopvolger. Tot dusver is niet bekend of de koning over zijn opvolging heeft gesproken.
KING BHUMIBOL, MONARCH AND FATHER TO MILLIONS, 88
BANGKOK — King Bhumibol Adulyadej, an obscure princeling born afar who became patriarch of Thailand, died Thursday in Bangkok at 88, ending his unprecedented reign of 70 years.
Years of poor health during which His Majesty was mostly confined to Siriraj Hospital, away from the eyes of a public which kept looking for him to be a unifying figure in his riven kingdom, ended at 3:52pm, according to a statement by the Royal Household Bureau. It did not specify a cause of death.
"Although the team of doctors have provided close care and treatment to their utmost ability, his illness did not subside and only worsened," the statement said.
Bhumibol, whose reign began in 1946 as the ninth in his dynasty, had not been seen publicly in 10 months. The deterioration of his health in recent years had been a source of prolonged anxiety for a nation where he was widely revered as demigod.
News of his condition brought crowds of people to assemble outside the hospital to pray for his recovery. News of his death Thursday night was met with sobbing, silence and singing. Many continued singing Sansoen Phra Barami, the well-known royal anthem broadcast daily.
"I no longer want to do anything else in my life. I didn't prepare for this," Malee Siriphan, 51, Bangkok, said through her tears. "He wasn't even 90 years old."
She said she could not accept his death.
"I will sit right here until he walks down," she said.
Bhumibol passed away in the year Thailand marked the 70th anniversary of his ascension to the throne. No other king in Thai history ruled so long, and up until his death, Bhumibol was considered the world's longest-reigning monarch among his contemporaries.
Bhumibol, who's also known as Rama IX of House Chakri, is survived by his 84-year-old wife, Queen Sirikit, and his four children: Ubolratana Rajakanya, Sirindhorn, Chulabhorn Walailak and Crown Prince Vajiralongkorn, to whom the throne is set to pass.
Born in the United States in 1927 to a little-known nobleman, Bhumibol evolved from the younger years as a secluded, Western-educated, jazz-loving college boy in Switzerland to a reluctant king in Thailand where a democratic revolution decades earlier stripped the monarchy of its traditional glory.
The Cold War later turned him into an adept politician who survived numerous coups and Communist insurgency before he attained the deification as the saintly father figure in his later years.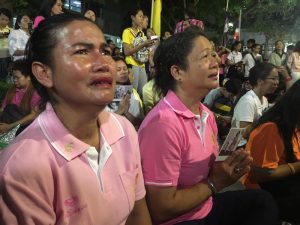 One biographer called him the king who never smiled, in reference to the quest of national salvation Bhumibol believed he was undertaking, which made him come across as a stern leader with rare displays of emotion.
In a rare, English-language interview with the BBC in 1980, King Bhumibol was asked if he was lonely while he was working hard in the countryside for his people.
"That is a question that can be answered in many ways. I am not lonely and I have work to do, so I have to do work," Bhumibol said.
News of Bhumibol's passing reached newsrooms across the country through unofficial palace channels at around 2pm, and words of his death soon spread to social media, but the palace only confirmed the news at 6:50pm.
His death followed a long period of silence from Bhumibol – the late king last appeared publicly Dec. 14 – and increasing anxiety among his royal subjects, few of whom have known any other king.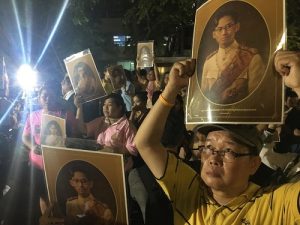 Nation in Mourning
In the later years of Bhumibol's reign, discussion of the monarchy went from a sensitive subject to outright taboo. Royal defamation is a crime, and since seizing power in 2014, the military has prosecuted it broadly and aggressively.
Thailand is little prepared for the momentous implications of His Majesty's passing, as there was no public discussion of the imminent event for fear of prosecution by the authorities.
What is known is that the nation is expected to mourn his passing for months to come, with entertainment and other important events postponed or canceled altogether. Per tradition, he will lie in state in an urn-shaped coffin at the Grand Palace, where prayers will be recited day and night.
After a long period of lying in state, King Bhumibol will be transported in an elaborate procession to the historic Royal Cremation Field, or Sanam Luang, for funerary rites.
Khaosod English